Steinway & Sons
165 Years of Perfection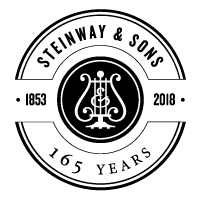 Celebrate the Anniversary of an American Icon.
Since 1853, Steinway & Sons has built the pianos by which all others are judged. Every Steinway grand and upright piano is a masterpiece of handcrafted precision and a consummate work of art—painstakingly built by experienced artisans with unending passion for their craft. And today's Steinways are the best Steinways yet, supported by generations of expertise and state-of-the-art technological advances. The company is known for its legendary grand and upright pianos as well as Steinway Spirio, the first player piano worthy of the Steinway & Sons name. Steinway-designed Boston and Essex grand and upright pianos ensure buyers will find the right piano for every need and budget.


To mark the anniversary, we are offering a low 1.65% interest rate financing for 36 months on all new Steinway & Sons and Steinway Designed Boston and Essex pianos in inventory.

To learn more, visit one of our four showrooms in Texas or complete the form below.
Financing is subject to approval. Not valid with any other offer.
This offer will expire on April 30, 2018.

165th Anniversary Promotion